How to plan a kitchen renovation on a budget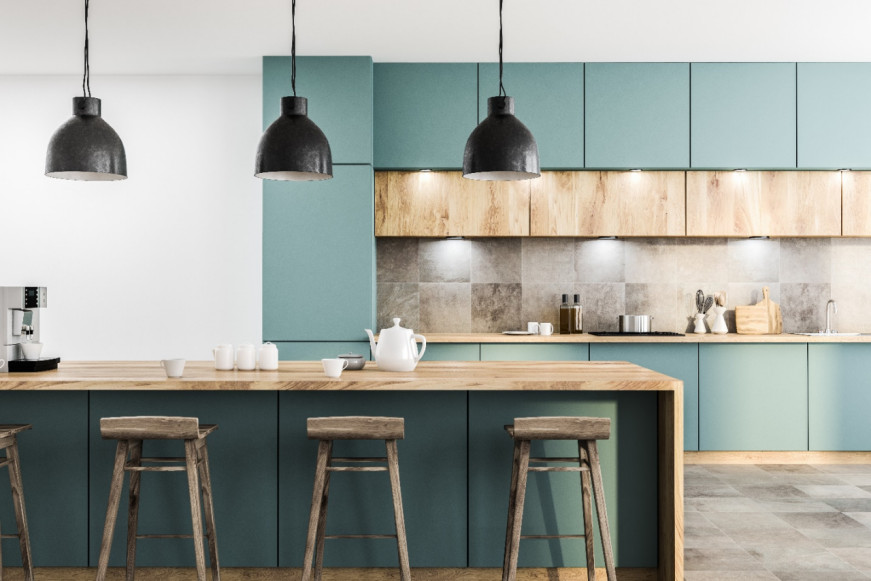 One of the most popular rooms to renovate in a home is the kitchen. It's often the busiest area of the house where we come together to prepare food and chat. It truly is the heart of the home.
In most cases, deciding to renovate the kitchen is also a smart financial decision. It can be a great investment in a property, raising the value and creating more resale opportunities in the future. But be prepared to invest as a kitchen renovation can be quite expensive.
Australians spend an average of $24,014 when renovating the kitchen, which is among the highest in the world. As a proportion of annual income, this figure represents close to 31% of the $84,845 that the average Australian earns each year.
So while a kitchen renovation can bring big rewards, it can also cost big bucks. That's why it makes sense to plan your kitchen renovation to ensure your dream is achievable and that you can stick to your budget.
How to plan a kitchen renovation on a budget
Planning a kitchen renovation on a budget doesn't mean giving up on your dreams. It just means making smart, savvy decisions. And at RenoNow, we know a lot about smart renovation decisions. So, here are our top tips for renovating your kitchen on a budget.
Tip 1: Do your research
When it comes to planning a kitchen renovation while sticking to your budget the first, and arguably most important, step is to do your research.
This will certainly involve looking online for design inspiration, new product releases, great but affordable tradies and innovative renovation solutions. (For example, you might consider new types of hybrid flooring or open kitchen cabinets.)
But it can also involve talking to people in the industry, speaking to friends and family that have renovated before and even checking out podcasts and webinars giving advice and insight.
You'll want to really understand what you want and what it will cost so that you can set a realistic budget.
Tip 2: Set a budget (and keep it)
The next step is to set your budget. We get it, setting a budget for kitchen renovations gets a high snore-factor rating, but it's an essential part of the process.
Your kitchen remodel budget needs to be realistic. It should include what you want, but moderated by what you want to pay (which may be different than what you can 'afford').
In fact, you should base your kitchen renovation budget on what you can afford to invest keeping in mind the risk of overcapitalising.
The 3% rule
In most cases, the 3% rule works well. That rule states that you should never spend more than 3% of the value of the home on a kitchen renovation.
However, keep in mind this is just a guide. There may be all sorts of reasons why you personally want to spend more. You should certainly take into account your own financial situation before making any decisions. And, remember to add in a contingency for those little unexpected things that crop up.
Vitally, once you set a budget be sure to keep it.
Tip 3: Consider a professional design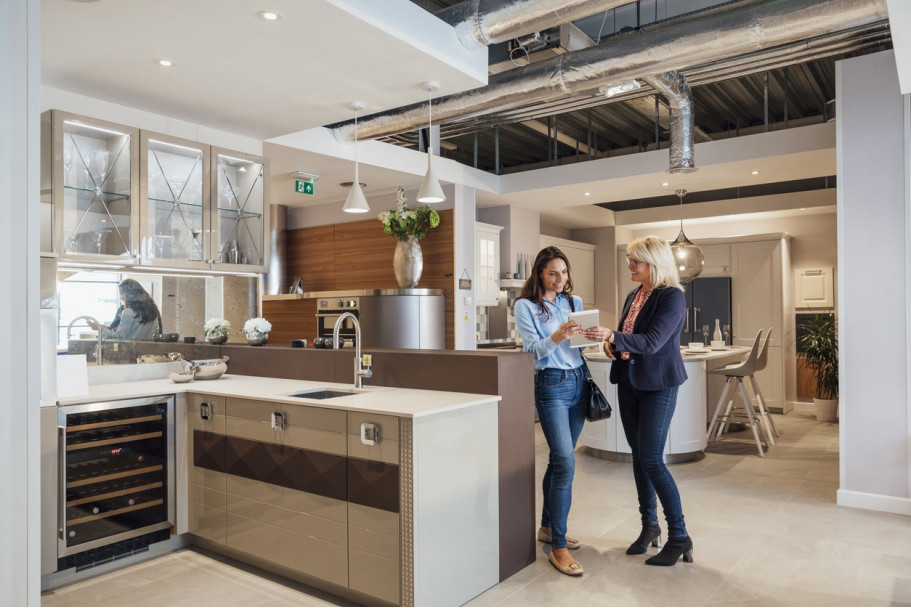 While getting an architect or designer to design your kitchen remodel may seem like an unnecessary cost, these professionals can actually save you money in the long run. Remember you will be using this kitchen for many years, and it can be a significant investment. So, it's certainly worth getting it right.
A professional can consider layout, function, storage, counter space, cabinetry, fittings, lighting, appliances and style, all while ensuring that it meets your requirements for your own particular lifestyle. They can advise you on whether a cosmetic makeover will suit, or whether you need to shell out for bigger structural changes.
Most importantly, they can ensure that the result is a modern kitchen that is cohesive, highly functional and aesthetically pleasing. This is important for you and for your resale value. As one of the core rooms of your house, your kitchen deserves the advice and decorating ideas of the professionals.
Tip 4: Create a timeline
One important way to plan a budget kitchen renovation is to create a timeline and stick with it. While this won't always be 100% within your control, the more you can ensure that your project is finished on time, the less resource wastage there will be in terms of lost time and delays.
To ensure you keep the project on time, you will either need to project manage the renovation, or hire someone to do this job. This means that you'll have someone on the ground coordinating trades and keeping the project moving forward on time and on budget.
Tip 5: Consider affordable quick wins
If you're planning a budget reno, but want to update or modernise your kitchen, there are some great things you can do to keep your renovation more affordable.
Give it a lick of paint
A fresh coat of paint can breathe new life into an old kitchen. A bright white, or neutral colour can brighten a tired space and lift existing cabinets, while colour can modernise the kitchen as a whole.
Stick with your current layout
If you don't want a kitchen renovation budget blow out, stick with your current kitchen layout including the placement of kitchen appliances. This will reduce your costs considerably as moving plumbing, electrics and even walls can mean big money.
If you're able to slot your new kitchen into your existing layout you can leverage off the current 'infrastructure' and save money in the process.
Update your cabinetry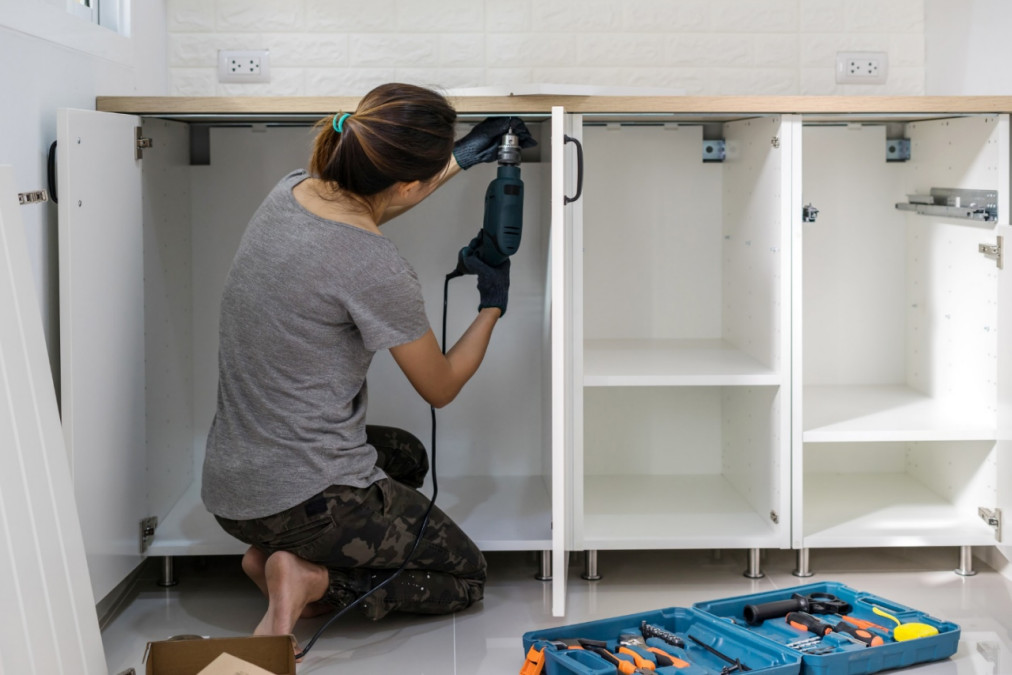 If your kitchen cabinetry is structurally sound, there's a lot you can do to update the look without breaking the bank. You can paint, install new cabinet hardware or even replace cabinet doors or drawer fronts for a fraction of the cost of updating the entire kitchen. Yet, the look can be just as fresh and new, giving you a big bang for your buck.
Spruce up your splashback
Retiling or repainting your splashback can give you a big win at an affordable price point. In fact, it can totally transform the look of your kitchen when done well. Combine it with new cabinetry and fresh paint and you can have a whole new kitchen on an old-school budget.
How can we help?
If you're ready to get started on your budget kitchen renovation, we're here to help. A loan with RenoNow gives you a fast and easy solution to your financing needs. And with our competitive rates, you will be enjoying your new kitchen in no time.